Comprehensive Office Cleaning for Portland Businesses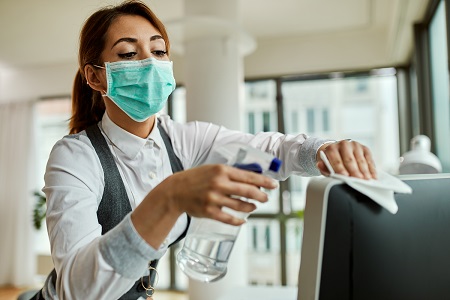 Hiring janitorial services for your office saves time and resources by entrusting an inconvenient task to a professional. However, if you don't choose the right service, you could end up with a sub-par job that doesn't meet your needs. Luckily, First Choice Janitorial Services offers professional cleaning services in Portland and a solution to all of your commercial cleaning needs.
First Choice Janitorial Services offers efficient and convenient cleaning that will leave your professional space looking pristine.
Our services cover your needs, whether you're looking to keep your workspace clean, or you need a significant clean-up that transforms a disastrous mess into a professional environment. After 15 years of offering professional janitorial services to Portland businesses, we know what offices need in their settings to operate at their best daily. Our comprehensive approach to cleaning and organization will leave your office looking brand new.
How Much Does Office Cleaning in Portland Cost?
Office cleaning doesn't cost nearly as much as the costs of lost workdays and missed customer conversions. Germs spread and cause sickness, leading to an increase in employees' sick days and a loss of productivity. Grime and dust can be a significant turn-off for potential clients, customers, or other guests. Uncleaned spaces can also lead to a breakdown in the organization of your office, in addition to deteriorating equipment. All of these factors lead to unnecessary costs of time and money when neglected. Luckily, First Choice Janitorial Services is your one-stop solution for reliable and timely solutions when it comes to any uncleanly expenses. Contact First Choice Janitorial Services for a customized cleaning quote for your Portland business.
Effective Commercial Cleaning
We know we deliver a premium service to each office we clean. We prepare for your job on all fronts, from employee and equipment quality to our commitment to quality systems we've had in place from the start of our business. Here are some of the reasons you can count on First Choice Janitorial Services for your offices' needs:
Extensive Employee Training. Our employees are thoroughly trained on proper cleaning techniques to ensure our staff completes every job with high-quality detail. We hire and maintain a team with extensive office cleaning experience to knock out the aspects of each project with precision and professionalism. Our staff receives ongoing training to ensure they are up-to-date on the best standards and practices. Each job is also supervised by some of the most experienced team to achieve the best service we offer. When you enlist First Choice Janitorial Services, you know we'll deliver you the best possible service at the best rate.
High-Quality Equipment. By ensuring we're using state-of-the-art cleaning supplies and equipment, you know you'll be getting the deepest clean possible for your workplace. For heavy-duty work, we use a truck-mounted extraction cleaning system and proven chemicals, while even offering green cleaning options.
Company Organization. We are licensed, bonded, and insured to ensure the protection of your working space. We guarantee we'll deliver a satisfyingly thorough and safe service from our staff.
---
Complete Cleaning Solutions That Meet Your Business's Needs
We know that no matter what type of office space you need cleaning, our approach will meet your full needs in a timely and accurate manner. Some of our most common detailed office cleaning approaches include:
Initial Deep Cleaning
Our first step in thoroughly cleaning your office space involves a thorough top-to-bottom work on each room. The initial process extends from dusting vents and light fixtures to vacuuming all carpets and scrubbing any hard floors. We'll clean behind any furniture, making sure to pinpoint any spots that other cleaners might miss. We ensure your furniture and supplies are back in their place. We dust and wipe down all surfaces, such as cleaning and sanitizing your computers and keyboards. Also, we cover bathrooms and kitchens in the first cleaning. We'll make sure any smudge-prone surfaces like windows and glass are shined and mark-free upon your return.
Professional Carpet Cleaning
Whether your carpet is stained, aging, or worn, our approach to carpet cleaning will reinvigorate your office floor to breathe new life into your workspace. We use state-of-the-art equipment to extract residue from your carpet and leave it looking good as new. Our machinery uses hot water to release dirt and grime buried deep in your carpet's fibers. Then we extract the water and debris. Once we've cleaned your carpet and let it dry, we'll inspect the floor to ensure it's as clean as possible.
Hard Floor Refinishing
We know we have the tools and knowledge to reinvigorate your hardwood floors and leave them looking brand new. We use the best products on the market to strip your old, dirty finish from your floor to apply a fresh coat that leaves a tremendous new shine.
Move-In and Move-Out Cleaning
Whether you move into a new office space that hasn't been cleaned properly or you need move-out cleaning, First Choice Janitorial Services can provide your business with the cleaning maintenance you deserve. We'll focus on a proper, deep clean so you can focus on moving your work materials into your new office space.
---
Contact Us Today to Get Started On Your Office's Deep Clean!
No matter what kind of mess we walk into, we can handle anything from upholstery cleaning to regular office maintenance. Cleaning is our passion. We're happy to keep your space sanitized, healthy, and safe without the high costs of doing this work yourself. Call us today! We'll show you how we can completely transform your office or commercial space to lend it a pristine look that impresses customers and clients while keeping you and your employees comfortable and productive.