Beaverton's Premier Janitorial Services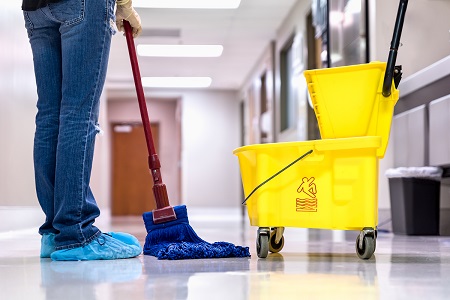 When you need quality cleaning services near Beaverton, Oregon, the choice just became easier. First Choice Janitorial is the leading provider of janitorial cleaning services in Beaverton. We have completed custodial tasks for commercial businesses across the Tualatin Valley since 1998.
The First Choice Janitorial team is highly trained and experienced. Our specialists use state-of-the-art equipment and green cleaning products to get the job done right. We design our janitorial packages to be sustainable, with eco-friendly practices that provide an unmatched range of quality services including:
Initial deep cleaning
Carpet cleaning using extraction
Bathroom cleaning
Break room cleaning
Kitchen & cafeteria area cleaning
Smoking room cleaning
Carpet repair and stretching
Hardwood floor refinishing
Floor stripping and waxing
Move-in/out cleaning
Our janitorial services are customizable. We'll work with your business and budget to provide the excellent service you need. A clean environment has been proven to improve worker productivity and reduce sick days. Call us now to get started
Our staff uses only green cleaning products and environmentally friendly packages to ensure the safety of our customers and employees. First Choice Janitorial will work with you to create a custom cleaning plan tailored to your company's needs. Choose which services you want and schedule cleanings daily, weekly, bi-weekly, or monthly.
We don't clean what isn't there, and we don't charge for things you don't need. That's why you can trust First Choice Janitorial.
Top-Quality Commercial Cleaning Company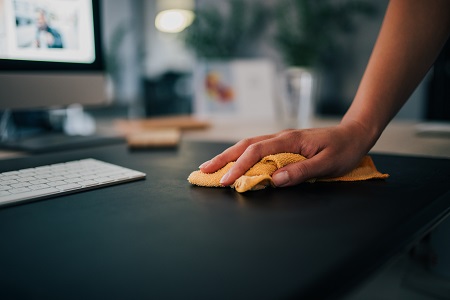 A clean business is a happy business. It fosters comfort for your employees and customers, but it also helps to prevent the spread of germs. You benefit from a healthier working environment and happier, more productive employees. Now you can offload this integral work to experts willing to take the time to do it right. It's a win/win.
For more than 20 years, First Choice has provided spotless workplaces to businesses in Beaverton. That's why we're the most reliable janitorial service in Beaverton. Our specialty is keeping businesses and residences clean, fresh, and spotless. We go beyond basic cleaning services for any type of business, including:
New construction cleaning
& Many More!
There are several significant drawbacks to an unmaintained interior. However, these issues fall away with scheduled janitorial services. It doesn't matter how long you've gone without it. You don't need to avoid cleaning any longer.
Cleaning is our passion. Achieve a sanitized, healthy, and safe building without the full-time cost by setting up a cleaning appointment with First Choice Janitorial. No matter the size or scope of your commercial janitorial needs in Beaverton, we have you covered.
Common Janitorial Services Questions
What services are included in janitorial services?
Janitorial services typically include cleaning and maintaining the interior of commercial buildings, such as offices, schools, hospitals, and retail stores. This includes tasks such as vacuuming, mopping, dusting, emptying trash cans and more.
How often should I schedule janitorial services?
The frequency of janitorial services depends on the size and use of the building, as well as the specific cleaning needs. Some buildings may require daily cleaning, while others may only need weekly or monthly services. We can help you determine the best cleaning schedule for your building.
How do I choose a reputable janitorial service provider?
When choosing a janitorial service provider, look for a company that is licensed, insured, and experienced in cleaning commercial buildings. We are a reputable janitorial company with years of experience. You can trust us for all your janitorial needs.
What is the cost of janitorial services?
The cost of janitorial services varies depending on the size of the building, the frequency of services, and the specific cleaning needs. you will get a detailed quote from us to understand the cost and what services are included.
Do I need to provide cleaning supplies and equipment?
We bring our own cleaning supplies and equipment. However, If you have specific cleaning products or equipment you prefer to use. Contact us for any specific needs you require.
The Search For Cleaning Services Near Me Is Over
When it comes to finding a company that specializes in providing a high-quality, commercial-grade team of cleaners. It's critical to get it right the first time. Any environment may benefit from Beaverton's exemplary custodians, First Choice Janitorial.
Our team of cleaning professionals provides you with the professional environment you've been dreaming of. First Choice Janitorial team members are well-versed in best practices and thoroughly clean each area before moving on to the next. For friendly and complete commercial cleaning services in Beaverton, call (503) 406-9222 or contact First Choice today for a free quote.