Professional upholstery cleaning has several benefits over DIY (Do-It-Yourself) cleaning. While DIY cleaning may seem like a cost-effective option, it is important to consider the potential risks and limitations, such as using the wrong cleaning products, damaging the upholstery, and not achieving the desired results. A professional upholstery cleaning service can provide more comprehensive and effective cleaning, and they can help to maintain the integrity and appearance of your furniture over time.
Deep Cleaning Methods
Professional cleaning of upholstery can provide a much deeper clean than traditional DIY methods, removing far more dirt, dust, and allergens. The deep clean provided by professionals ensure that your upholstery will look better for longer while also eliminating any allergens within the fibers. On top of that, the improved aesthetics and reduced need for frequent cleaning due to the professional job will give you peace of mind knowing your upholstery is well taken care of. With professional cleaning, you can truly trust that your upholstery will be restored to its best condition.
Getting Rid of Tough Stains
Professional cleaners have access to specialized equipment and machinery for intensive cleaning. This includes hot water suction power, steam cleaning, and hot water extraction systems, which enable them to remove heavy stains from heavy fabrics and furnishings in much more detail than a do-it-yourself approach. As such, DIY approaches for removing deep stains may not yield the desired results, and it is better to bring in professionals who are skilled in the process.
Maintain Condition of Upholstery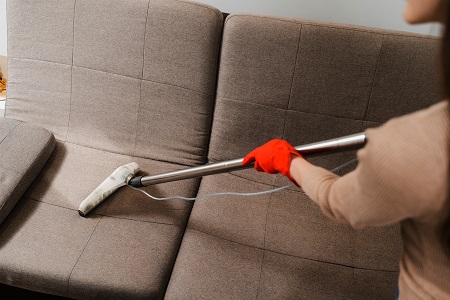 Routine professional cleanings are highly recommended to preserve the quality of your upholstery over time. These services go beyond a superficial cleaning; they remove dirt particles from the surface as well as from the under-layers and help keep the fabric in its optimal condition. At-home cleaning solutions may be inadequate – or even damaging – so it's best to take advantage of a service that will provide more thorough results. A reputable professional upholstery cleaner will deploy only those products and treatments specifically suited for your furniture fabrics, thus enhancing their lifespan and resilience.
Convenience
Professional upholstery cleaning services are a convenient option for homeowners and businesses who want to maintain the cleanliness and appearance of their furniture without spending time and effort on DIY cleaning. The service is quick, efficient, and hassle-free and can help you maintain the integrity and lifespan of your furniture.
Here are some ways in which professional upholstery cleaning companies can be a convenient option:
Easy scheduling: Professional upholstery cleaning services typically offer flexible scheduling options to accommodate the needs of their clients.
Quick and efficient service: Professional cleaners have the equipment, tools, and expertise to complete the job quickly and efficiently.
No heavy lifting: Upholstered furniture can be heavy and difficult to move, especially if you have to move it around the house or your commercial building to clean it. Professional upholstery cleaners have the tools and equipment to move the furniture safely and efficiently.
No mess: DIY cleaning can often leave a mess behind, with water, cleaning solutions, and debris left on your floors and carpets. With professional upholstery cleaning, the cleaners will take care of the cleaning process, leaving no mess behind for you to clean up.
Expert knowledge: Professional upholstery cleaners have the knowledge and experience to identify the right cleaning method for your specific type of furniture. They can assess the fabric type, determine the right cleaning products and methods, and perform the cleaning process safely and effectively.
Legal Compliance for Businesses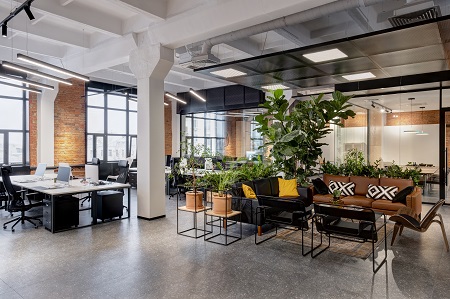 Professional cleaning services can help businesses comply with legal regulations related to health, safety, and the environment, as well as reduce liability by maintaining a clean and hygienic environment. By outsourcing their cleaning needs to a professional service, businesses can ensure that they meet their legal obligations and protect their employees and customers.
Proper Cleaning Solutions for Every Type of Fabric
Professional cleaners use advanced cleaning solutions for every type of upholstery fabric when cleaning upholstery. This is because different fabrics require different cleaning methods and products to avoid damage or discoloration.
Professional upholstery cleaners have the expertise and knowledge to identify the fabric type and determine the appropriate cleaning solution and method for each specific piece of furniture. They use specialized products and equipment to deep-clean and remove stains without damaging the upholstery.
For example, delicate upholstery fabrics such as silk or velvet require gentle cleaning solutions and specialized tools, while more durable fabrics like microfiber or leather require stronger cleaning products and techniques. Professional cleaners also take care to test the cleaning solution on a small, inconspicuous area of the upholstery before proceeding with the full cleaning process to ensure that there are no adverse effects.
First Choice Janitorial Professionally Cleans Upholstery
If you're looking to restore the original vibrancy of your furniture and carpets, First Choice Janitorial Services are the upholstery cleaning experts in Portland. Our cleaning service technicians deep clean and sanitize upholstery fabrics with professional-grade products and advanced equipment, safely removing dirt, odors, dust mites and other allergens. Even if your fabrics were discolored or worn when you purchased them, our services could bring them back to life at a highly affordable price. Whether your upholstery has suffered decades of wear or just needs a refresh, leave it to the professionals at First Choice Janitorial – they'll ensure you get the best quality care for your furniture. Contact us today for excellent customer service.
Other cleaning services we provide:
Carpet Cleaning
Commercial Janitorial Services
Green/Eco-Friendly Cleaning Solutions
Window Cleaning
Visit our About Us page for more information about our company.