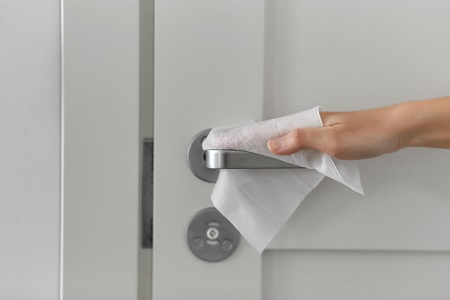 Professional cleaners can sound like a bit of a luxury when you say it out loud. But it's not some elite privilege for otherwise occupied professionals. It's actually a great necessity for busy property managers that need to clean up after a commercial or residential tenant leaves.
Imagine this: your last tenant has just moved out. They did a good job of removing all their possessions, but basic cleaning tasks are left wanting. The living room still needs vacuuming, the fridge needs a scrub, and the bathroom, well, sometimes the bathroom needs more attention than has been given. And that could be considered a good job. Just imagine the horror stories from bad tenants waiting in their former living space.
Whether a good tenant or a bad tenant, after they move out, it's time to call in First Choice Janitorial. We provide just the kind of professional cleaners in Beaverton that property managers and lessors need. Whether a residential or commercial tenant, our professional cleaners' mission is twofold: not just to leave the property sparkling but also to make sure it stays safe and healthy for the next occupant.
Seven Reasons First Choice Janitorial's Professional Cleaners Are For You
Still unsure about hiring a third party to clean after a tenant moves out? First Choice Janitorial has seven reasons why you should select the best professional cleaning company in Beaverton. Read on and leave no doubt that First Choice is the only choice for quality cleaning services.
Scrub Away Pathogens
Our apartment cleaning methods go far beyond what the untrained eye can see. We shower, soap, and scrub apartments with special cleaning solutions that are both biodegradable and effective at eliminating harmful bacteria. Biodegradable solutions will both keep the environment healthy while also keeping pets and kids safe. But it goes beyond just using the right products.
First Choice also takes a geographical approach, targeting and eliminating possibilities for cross-contamination. Countertops, appliances, bathrooms, hallways, and entryways are all high-risk disease vectors. By focusing on these high-risk areas with safe cleaning materials, every apartment we clean will be safe and healthy for tours providing a first impression that lasts.
Deep Clean All Surfaces
A great cleaning company also takes a geographical approach, targeting and eliminating possibilities for cross-contamination. Any modern property will have multiple different surfaces that need to be cleaned. Kitchens, bathrooms, hallways, and entryways all have high-risk disease vectors from door knobs to appliances to countertops to sinks to upholstery.
Excellent janitors always ensure that every nook and cranny of your apartment is scrubbed and sanitized. Their cleaning process will leave no surface untouched and guarantee clean until the germs cry uncle. Anything less would be a betrayal of their mission statement. Unless they don't have one, in which case, beware! They may not be who they say they are.
Remove Any Unwanted Odors
This might be one of the most important apartment cleaning tasks to the point of being obvious. But before you finish that thought, just think back to those things that make a good first impression. The worst part of a messy tenant has to be the unwanted odors.
With our apartment cleaning services, we use special deodorizers to ensure that any odors are eliminated in a safe and effective manner. Not only will your apartment smell clean and fresh, but it also ensures that new tenants won't be turned off by the odors left behind by previous occupants.
Take Care of People and the Environment
Some cleaning solutions can have a lasting impact on health. They leave an airborne or surface residue that potential tenants won't see and can lead to serious problems in the future. Microplastics, toxic ingredients and irritating scents can contribute to serious health problems later down the line.
At First Choice Janitorial, we are committed to taking care of both people and the environment. To this end, all of our apartment cleaning services use green cleaning products that are non-toxic and biodegradable. This ensures that the apartment is thoroughly cleaned without harming the next tenants or the environment in any way.
Showcase the Property at its Best
Showcasing any property is like creating a profile on a dating app and finding a match. When the match comes to visit, it is like going on a date. As the property manager, you want a great first impression that lasts. That means getting rid of those stains on the shirt—er, carpet; whitening the teeth—oops, walls; and deodorizing any unwanted scents. (Hey, that last one worked for both!)
When potential tenants come to meet and tour a property, they should be able to tell right away that it's clean and taken care of. The rooms themselves become roommates, and nobody appreciates an overly messy or unhygienic roommate. That's why First Choice is here to help. Our apartment cleaning services guarantee that your apartment will look its best to secure that next date.
And Do It All Without Lifting a Finger!
When you choose First Choice Janitorial for your apartment cleaning needs, you can rest assured that it is in the best hands possible. Our janitors are held to a high standard and are well-trained in apartment cleaning protocols, leaving your apartment as safe and healthy as possible for inquiries from potential new tenants.
With our apartment cleaning services, you don't have to worry about the time it takes to clean up after a messy tenant. First Choice Janitorial Services is ready to leave your apartment as safe and healthy as possible. Our staff also uses other specialized cleaning supplies to eliminate any hidden pathogens.
Beaverton's Premier Professional Cleaners
When a tenant leaves an apartment or office, there's so much to do and so little time. But one of the most important things to remember as a property manager is to schedule a move-out cleaning with a professional cleaning company like First Choice Janitorial.
With years of experience in the industry, our employees understand that cleaning to client satisfaction can be a daunting task. Our team of experts works hard to ensure that everything is done properly and efficiently. From apartments to concessions, we are ready to take on any cleaning project anywhere.
First Choice Janitorial strives to provide Beaverton property managers with the highest quality professional cleaning services at the most affordable prices. We are confident that you will be satisfied with the results, and we look forward to helping you maintain a clean and healthy environment for work or play. Call us today at (360) 903-0742 or contact us via our website.