First Choice Janitorial is a local, family-owned, and operated janitorial service company in the Vancouver, WA, and Portland, OR, area. We specialize in cleaning office buildings, retail stores, schools, and other commercial and residential properties. First Choice employs a team of professional staff that are background checked and outfitted with uniforms for your safety. If you're looking for knowledgeable technicians to deep clean your facility or need to hire a weekend staff quickly, we can help! And if you're wondering how we stand out from other commercial
janitorial services
in the area, this blog post will give you the perfect idea!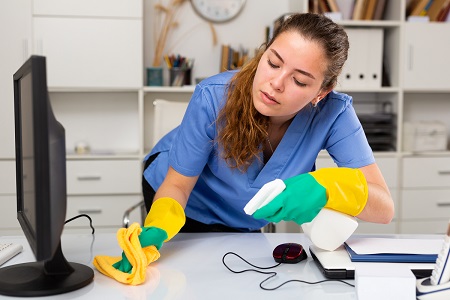 First Choice Janitorial is a family-owned company
At First Choice cleaning Services Vancouver, WA, we don't rely on any third-party contractors. This means we take pride in our staff and treat them like family, not employees. We make sure to employ professional staff fit for the challenge and provide an opportunity for advancement within our hierarchy if they want it. Our goal at First Choice is to provide a thorough cleaning and maintain the quality of your facility or home.
We offer the most competitive prices for cleaning services
Come to us for the most competitive janitorial service rates in town. But when you think about what you get for your money, First Choice is always a great decision! Our prices include many perks that other companies charge extra for, such as background checks and uniforms for staff members. There isn't any task too big or small that our team can't handle, and we make sure to get it right the first time. We want you, our patrons, to be happy with us with every single visit!
We are committed to delivering high-quality customer service
First Choice commercial cleaning service has become one of Vancouver's most trusted janitorial companies because of our commitment to providing the highest quality service possible. We always go above and beyond for our patrons, no matter what it takes! Whether you need us to come out in an emergency or maintain your facility week-to-week, we'll be there when you call. If you ever have a concern, let us know right away. Our employees are friendly and knowledgeable about all of their products and services. We are a local family-owned company that cares about you. That is why we make a point to do a great job every single time!
We offer round-the-clock services 24 hours a day, 7 days a week!
First Choice Janitorial Services can offer extensive commercial cleaning services for all your building needs. We can come out whenever you need us, day or night! Whether you need construction clean-up in the middle of the afternoon on a Tuesday or early Monday morning before anyone arrives at work, our team will be there for you. If your building has an alarm, you don't have to worry! Our technicians come equipped with the tools necessary to get in without causing any damage. We are also available on weekends to clean commercial spaces if needed! We also plan to introduce special rates at night for customers to get the most out of their money. First Choice is committed to providing top-quality services, so we work hard to accommodate all our clients' needs!
We provide a range of cleaning options for your business or store
At First Choice cleaning services Vancouver, WA, we pride ourselves on offering different types and levels of commercial and residential cleaning services. First, you can hire us for a one-time thorough cleaning session or weekly services that will help to improve and maintain the quality and cleanliness of your establishment. We also offer deep cleanings and green cleaning options to meet all of our customers' needs! We have a proficient team of technicians that will clean your windows, carpets, and upholstery with excellent results.
All our staff members have been background checked, drug tested and insured
At First Choice Janitorial Services Vancouver, WA, we know that having a background-checked and drug-tested staff is a concern for our clients. That's why all of our employees go through a rigorous recruitment schedule! We do extensive pre-employment checks to ensure we choose integral service members you can trust to be on your property. And because they are our friends and family members, we know that you can trust them too! Professionalism is at the core of our service delivery, and every single one of our employees understands that. We offer a clean and safe environment for your business so that you can focus on what's important to you!
We've been in business for over 15 years
Our company has been in business for over 15 years, making us one of the most trusted companies in Vancouver! We have an extensive history of experience that allows you to rest assured that the job will be done right the first time. Our commitment to your satisfaction is what keeps our clientele coming back time and time again! So if you're looking for a cleaning service that will do the job right every time, contact us today!
We use green cleaning methods
We use eco-friendly cleaning products and practices to help protect your business or store's employees and customers from common germs. Our staff members are trained in various green methods, so they know exactly how to clean all types of surfaces. And because we use environmentally-friendly products, you can feel good about the work we provide for your business or store!
Contact First Choice Janitorial Services today!
If you are in the market for a high-quality and experienced commercial cleaning service, call First Choice cleaning service Vancouver, WA, or send us a message using the form on this page to get started! Our team will be in touch as soon as possible to answer any questions you might have. We look forward to providing high-quality cleaning services for your home and business!