Pets Versus Carpet: You Decide Who Wins
With nearly 70% of US households owning a cat or dog, life with a pet is inarguably a good one. But, as pet owners know, it comes with costs. Vet visits on average cost between $200 and $400 a year, food costs between $200 and $700, and miscellaneous costs like home repairs and grooming can add up as well.
But, along with a pet comes lots of time spent cleaning up after them. Litter boxes, food bowls, floors, furniture, linens, doors, windows, and carpets all fall victim to life with an animal.
So, it goes without saying that pet ownership means more cleaning. It's inevitable. However, the good always outweighs the bad. No matter how many times you have to clean the nose prints and slobber off the sliding glass door, getting rid of your pet for the sake of an immaculately clean house is inconceivable.
So, how do we keep our houses, namely, our carpets, clean if we insist on having an animal cohabitate? The carpet cleaning pros at First Choice Janitorial Service have some suggestions.
---
How to Maintain Clean Carpets and Happy Pets
Even a small cat will leave fur all over upholstered furniture, in vents, under beds and sofas, stuck to rugs and carpets, and smeared across curtains. Carpets especially act as velcro for pet hair and dander, and if not cleaned regularly, carpets can quickly become permanently ruined.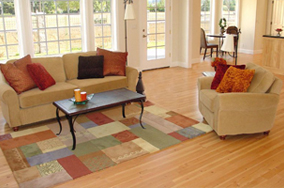 Deciding how often and to what degree to clean carpets depends on your tolerance for dirt and fur. It also depends on how your carpets are being used. Does the pet go outdoors and track dirt or mud on the carpet? Do they shed a lot? Do they have accidents on the carpet?
Consider your situation and create a system of maintaining your carpets in a way that makes sense for you. Some people like to have their carpets professionally cleaned several times a year, while others do minor maintenance throughout the week and wait every two years or more to have their carpets steam cleaned.
We do advise, however, that waiting too long to clean up after your pets means the cleaning job will take longer and require more effort. Finding a balance is essential when it comes to owning a pet and keeping your home clean. And having your carpets professionally steamed cleaned by a reputable, local company is part of that balance.
---
Three Easy Ways for Dog Owners to Protect Their Carpet
Clean messes soon after they happen – Leaving urine to soak in is one of worst things you can do to your carpet, not to mention indoor air quality. Develop a hawk-eye for messes before they become stains. Keep a drawer or basket full of absorbent cleaning cloths, dishrags, or shop towels for quick access.
Pet-friendly carpet options – Nylon carpeting can be made with a coating that keeps moisture from getting through. This protects the carpet padding as well as the floor underneath. If you're considering installing or replacing your carpet, ask about pet-friendly options.
Training – The best way to avoid carpet stains? Don't let them happen in the first place. Vancouver has lots of doggy training schools where they teach pups to respond to commands. Ask the trainer about keeping your dog from having accidents in the house. They'll have all kinds of great tips.
---
Three Easy Ways for Cat Owners to Protect Their Carpet
Elbow grease – There's no way around it. If you want a clean house and a kitty, you'll have to do some vacuuming, litter box digging, and maybe even some rudimentary carpet cleaning. To make things as easy as possible, keep a small vacuum handy to clean up small messes throughout the week. That way, you won't have to spend your weekends cleaning up the accumulated mess.
Litter limits – Most litters do a good job of disguising odors, but they have their limits. In addition to daily cleaning of the litter box, place a litter-attracting mat under the box. This will help minimize how much litter gets tracked onto the carpet.
Everything else– The best way to keep your carpet clean is to be diligent about daily upkeep. The second best way is to call First Choice Janitorial Services for routine carpet cleaning. We'll help you determine how often makes sense for your household and make sure that your carpets are in great condition for the long-term.
---
Contact First Choice Janitorial Services today for pet-friendly carpet cleaning in Vancouver, Washington!